I already covered OpenVPN configuration on pFSense server, and you can read more about it here – https://www.informaticar.net/how-to-setup-openvpn-on-pfsense/
This is tutorial where I will be describing client part of the OpenVPN installation. Once again this short tutorial is targeted for the OpenVPN installation on pFSense.
This tutorial is addition to the OpenVPN configuration on pFSense which I linked above.
On the client PC first step is to download OpenVPN client, installation can be found here
https://openvpn.net/index.php/open-source/downloads.html
Select Client OS that you use and download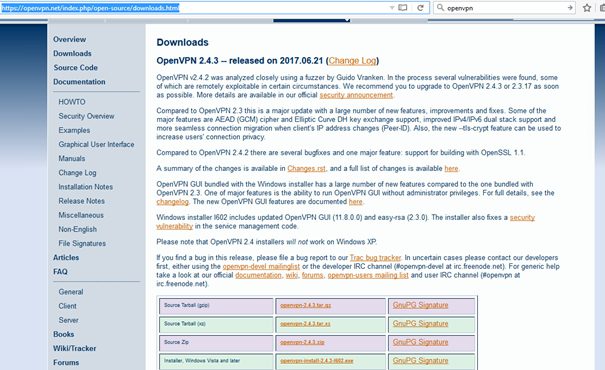 I won`t be covering installation – it is more or less Next |Next procedure, if you install on Windows in one moment you`ll be asked to install additional network adapters – Accept it
After you are done with the install – copy exported configuration to the client PC and extract it to the
C:\Program Files\OpenVPN\config folder
If you exported archive like I did, you should have all the files you need for the successful VPN connection
Here is what extracted files look like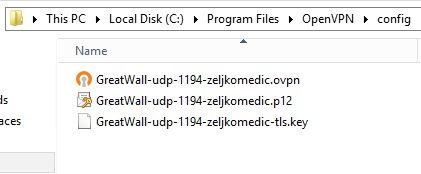 After you extracted and copied your configuration to config folder of OpenVPN client go to the system tray and find icon with little PC with padlock | right click on it and select Connect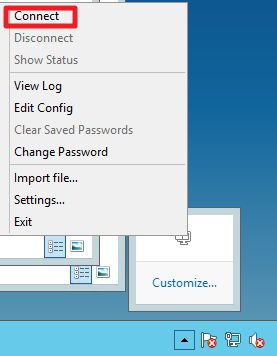 If you done everything correctly, you should now have the connection to the pFSense OpenVPN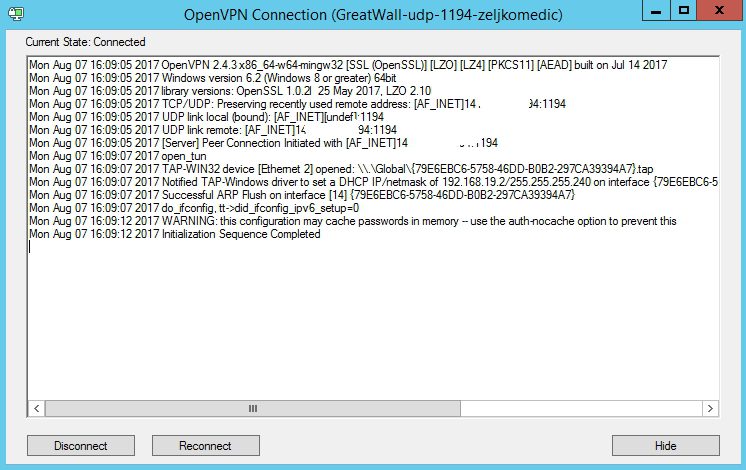 Let us check the status on the pFSense firewall
Status |OpenVPN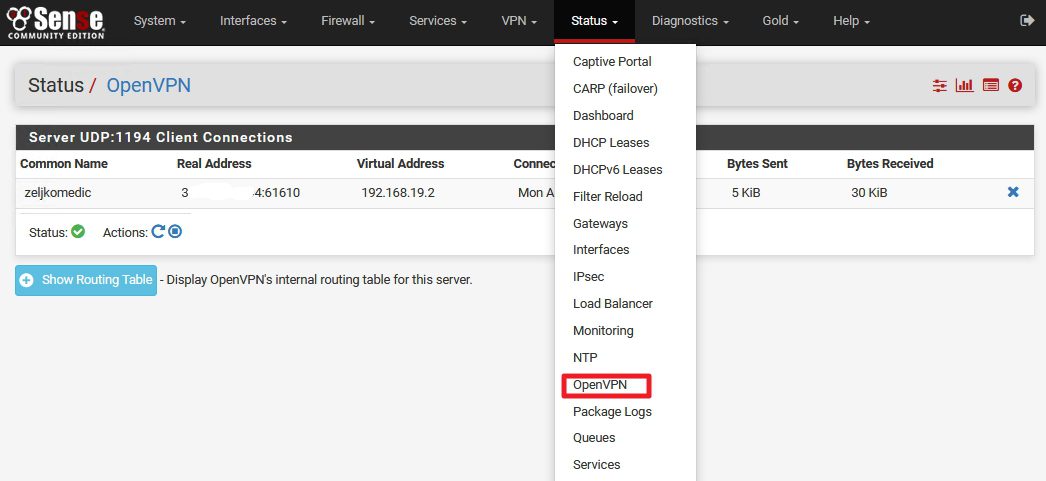 Connected

Success!
We successfully connected to the VPN and now you probably want to access local resources on the remote VPN network – and at this stage you probably cannot.  You can establish VPN connection and it works, but you cannot access anything remotely.
The article would be too long so I separated it – if you want to know how to access remote resources over VPN connection on OpenVPN read here – https://www.informaticar.net/openvpn-on-pfsense-enable-access-to-the-lan-resources/
pFSense article series:
How to install pFSense on Hyper-V – https://www.informaticar.net/how-to-install-pfsense-on-hyper-v/
How to configure pFSense – https://www.informaticar.net/how-to-configure-pfsense/
How to define firewall rules on pFSense – https://www.informaticar.net/how-to-define-firewall-rules-on-pfsense/
How to create port forwarding on pFSense – https://www.informaticar.net/create-port-forwarding-on-pfsense/
How to setup OpenVPN on pFSense – https://www.informaticar.net/how-to-setup-openvpn-on-pfsense/
How to setup OpenVPN on client (pFSense) – https://www.informaticar.net/how-to-setup-openvpn-pfsense-version-on-client-pc/
OpenVPN on pFSense: Enable access to the LAN resources – https://www.informaticar.net/openvpn-on-pfsense-enable-access-to-the-lan-resources/
How to revocate user certificate on pFSense – https://www.informaticar.net/how-to-revocate-user-certificate-on-pfsense-openvpn/
How to import PFX certificate to pFSense – https://www.informaticar.net/how-to-import-pfx-certificate-to-pfsense/