I recently came upon few NetApp FAS SAN Filers. In order to get more space out of them, I had to reconfigure them. Person who initially configured them had too much disks attached to root aggregate, I wanted to completely reconfigure storage so I had to destroy current configuration and rebuild all the RAID fields.
Here I`ll show you how to format and reinstall NetApp Data ONTAP. THIS PROCEDURE WILL FORMAT ALL DISKS AND RESTORE YOUR CONFIGURATION TO FACTORY SETTINGS!!
Backup all your configurations and license keys before this procedure!
First, we`ll need console cable.
Ethernet side goes into serial port on NetApp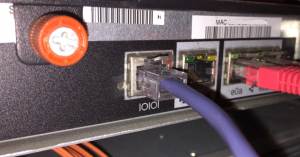 Serial side goes into PC/server, whatever you`ll use to reinstall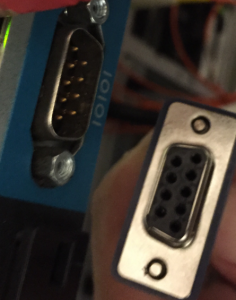 I`m using Putty for my serial connections – http://www.chiark.greenend.org.uk/~sgtatham/putty/download.html
Default settings will suffice for this connection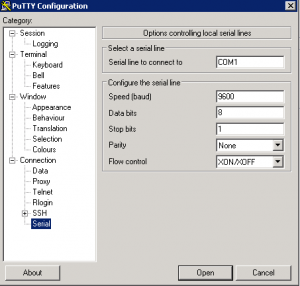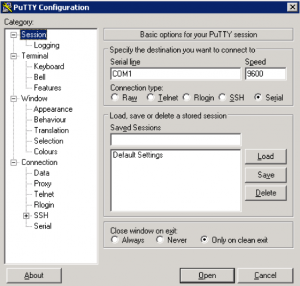 You`ll need to enter your password and reboot controller
Reboot

While controller is rebooting you`ll need to enter "special boot menu". In order to do so press following keys when asked:
CTRL+C
After that special Boot menu will be started. Choose 4 and confirm two times with Y.
This will erase all disks and restore OS.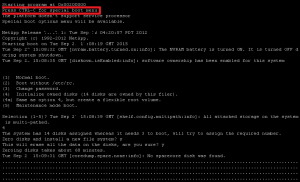 Next step after disk zeroing is done is to setup initial parameters for controller. You`ll need to setup name, IP address and settings for your controller.

Next you`ll be asked to continue setup through web interface. I recommend you enter N and continue setup trough CLI. Once again you`ll setup according to your needs and network. After everything is done – Reboot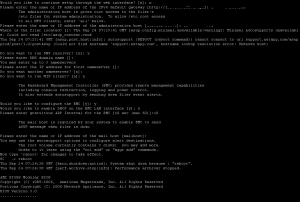 You`ll also have to setup password for your root account.
Reboot controller from CLI and press CTRL+C for special boot menu, choose 3 (Change password) and enter password you want to set. After reboot you`ll have initial setup done, and now you can start setting up you aggregates, volumes and security for NetApp