In this article I`m going to explain how to configure Failover Clustering Service in Windows Server 2012 R2 Standard.
Before starting let me define LAB that I set for this test:
Domain: test.local, DC name: DC2012, IP address 10.10.10.3
iSCSI target server 1: Name: Role1 IP address: 10.10.10.6 disk: 2GB
iSCSI target server 2: Name: Role2 IP address: 10.10.10.7 disk:2GB
For this LAB I installed Starwind FreeSAN as iSCSI Target since it gives me HA for iSCSI Target.
Cluster Node 1: Name: Node 1 IP address LAN: 10.10.10.8 Private: 192.168.2.10
Cluster Node 2: Name: Node 2 IP address LAN: 10.10.10.9 Private: 192.168.2.11
Failover Cluster: Name: FailCluster IP address: 10.10.10.15
DHCP Cluster: Name: DHCPCluster IP address: 10.10.10.16
LAB needs to have configured domain, iSCSI target has to be set up and set to both Cluster Nodes via iSCSI initiator and MPIO.
I will not describe here domain setup, iscsi target setup, and iSCSI initiator and MPIO setup.
iSCSI Target tips:
For your LAB (or production) you can configure iSCSI Target with Windows Server iSCSI Target or use Starwind Virtual SAN if you don`t want iSCSI to be single point of failure. I described Starwind Virtual SAN in my other articles, so you can see there how to set it up.
LAN tips:
Create two separate physical networks and subnets for LAN and private communication between cluster nodes.
In this lab we`ll be installing Failover Clustering Feature and configuring DHCP cluster
Server Manager | Manage | Add Roles and Features | Click Next until you reach Features tab on the left menu | click on Failover Clustering |Additional window will pop up – Add Features | Next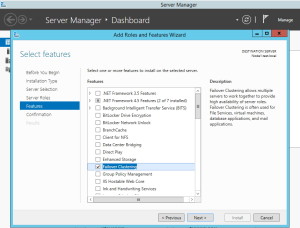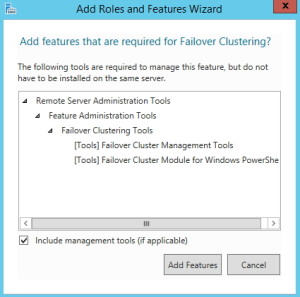 Install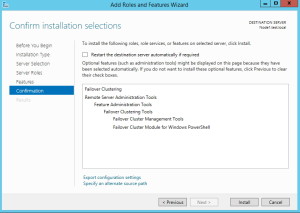 Installing…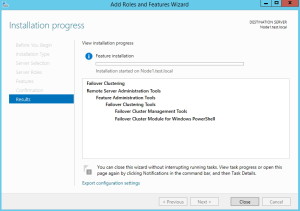 Installation successful. Repeat this procedure on second Node!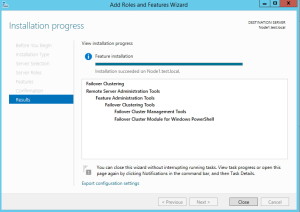 Server Manager | Tools |Failover Cluster Manager |under Management choose Validate Configuration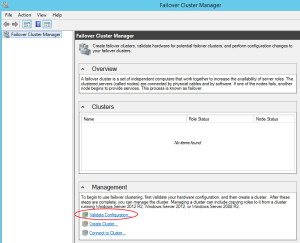 Before Validating Cluster be sure you set network configuration (LAN and private network should be in different subnets) and attached disks via iSCSI initiators and MPIO to both nodes.
Next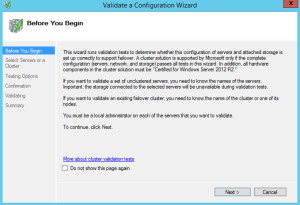 Add both of your cluster nodes under Selected servers and click Next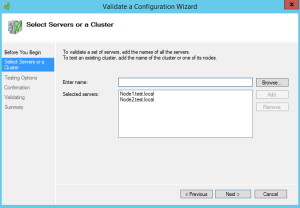 Run all tests |Next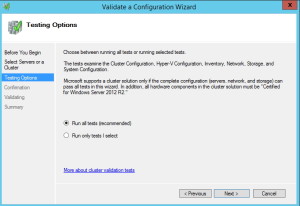 Next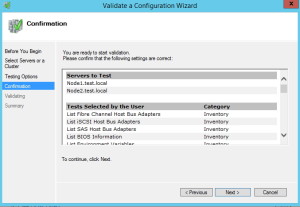 Everything is ok, we are ready for creating Failover Cluster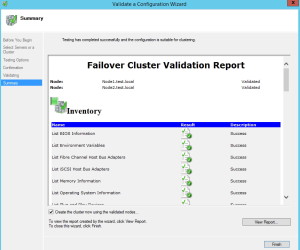 Failover Cluster Management |Create Cluster
Next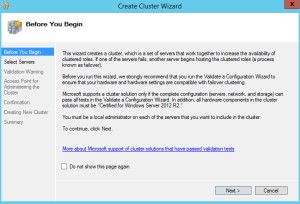 Add servers that are prepared for Failover Clustering. In my case Node 1 and Node 2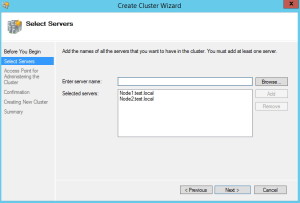 Give Cluster a name (mine will be FailCluster) and IP address (mine is 10.10.10.15) |Next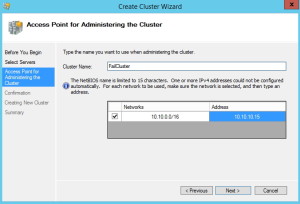 I will untick "Add all eligible storage to the cluster" and add it manually later | Next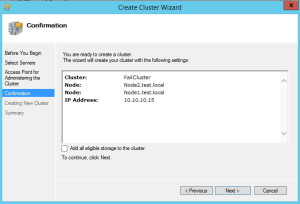 …
Finished. Since I chose not to add a disk to Cluster, I got a warning. I`ll resolve disk issue in a minute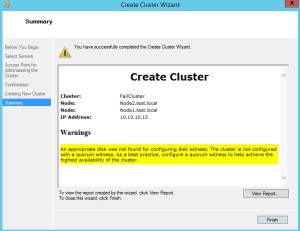 First step is to add Storage to created Cluster | Failover Cluster Manager | name of Cluster (FailCluster) | Storage |Disks | Add Disk

Add Disks dialog is offering disk that I prepared via iSCSI Target software | OK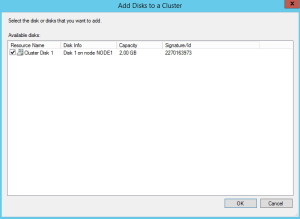 Disk is online, currently on Node2

If you are planning to add virtual machines to clustering, Cluster Shared Volumes might be good idea
https://en.wikipedia.org/wiki/Cluster_Shared_Volumes

In order to achieve Cluster Shared Volume disk, iSCSI target that you are planning to use needs to have iSCSI 3 support.
Next step is adding DHCP to Failover Cluster
First we need to install DHCP via Server Manager. Installation is needed on all nodes.
I won`t be going through installation of a server role. Procedure is same as for Failover Cluster feature we installed in the beginning.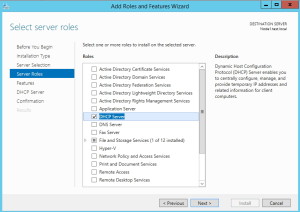 When Role is installed, no configuration is needed. Everything will be done through Failover Cluster Manager
Failover Cluster Management | choose Cluster (FailCluster)| Roles | Configure Role

Next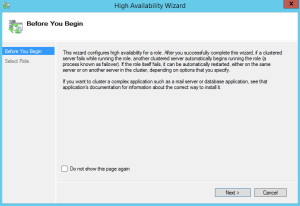 Choose DHCP Server | Next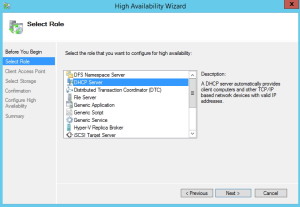 Enter name for DHCP Cluster along with IP address |Next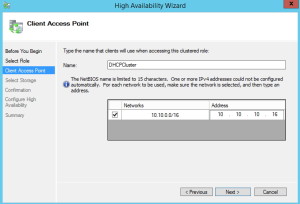 I`ll be using disk that I already added to Cluster |Next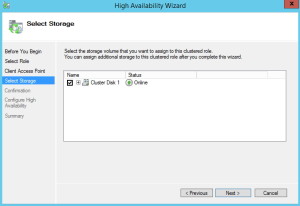 Next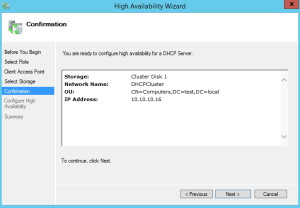 Success |Finish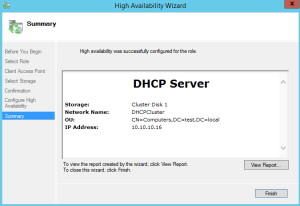 Created DHCP Cluster can be found under Failover Cluster Management | choose Cluster (FailCluster)| Roles
You`ll probably want to configure DHCP, so you`ll need to click on Manage DHCP Server and configure DHCP service through Failover Cluster Manager.

With this step we finished creating Failover Cluster service and adding DHCP service to it. Adding any other service or app to Failover Cluster is similar to this procedure.