All new iPhone, the iPhone 5 is here. I`m using iPhone and iOS platform since the day one and my last iPhone was iPhone 4s. Since I broke it, I got myself a new one – iPhone 5 and decided to write a quick review about it while it`s still fresh.
As always with all Apple products, there is a great hype, and iPhone 5 is no exception. Some are thrilled with new iPhone 5, while other think it`s overpriced device with lacking and outdated OS.
I`ll give you my personal insight into iPhone 5 after using it now for a week and I`ll be comparing it with iPhone 4s since I was using it for almost a year.
I don`t have to emphasize that this is my personal review and opinion about iPhone 5 and iOS 6.
First of all, like with my every review:
Price:
As every iDevice, iPhone 5 is expensive, more expensive than competition. Unsubsidized price of iPhone 5 16GB at Croatian mobile providers is 1000€.
You can get it cheaper through contracts with mobile providers. Lowest price for iPhone 5 16GB is 100€ with 2 year contract which includes monthly fee of 90€.
At the same time price of HTC Windows Phone 8x 16GB is 670€ for unsubsidized version, while through 2 year contact with 90€ monthly fee you can get it for 1€.
Samsung Galaxy SIII 16GB is 670€ for unsubsidized version, while through 2 year contact with 90€ monthly fee you can get it for 1€.
Both Windows Phone 8 and Android devices are obviously cheaper than iPhone.
I took prices from Croatian mobile provider Vipnet. IPhone 5 is also available through T-Mobile in Croatia.
From now on in this text, I`ll be referring to iPhone 5 as i5, while iPhone 4s will be i4s.
Specifications:
IPhone 5 is a beautiful gadget. It comes as slimmer, elongated version of i4s with whole new design.
IPhone 5 (i5 from now in the text) is 123.8 x 58.6 x 7.6 mm while iPhone 4s (i4s from now) is 115.2 x 58.6 x 9.3 mm. i5 is same width as i4s but little thinner and longer.
I5 is also lighter than i4s. I5 weights 112g while i4s is 140g.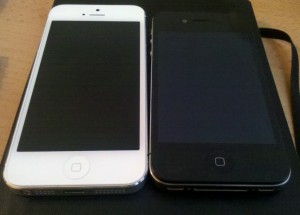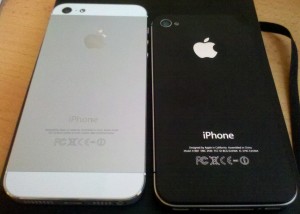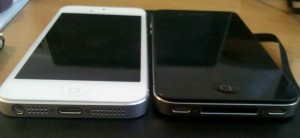 i5 "lost" 30pin connector for charging and data transfer and got new, smaller one. Apple is calling it "Lightning connector".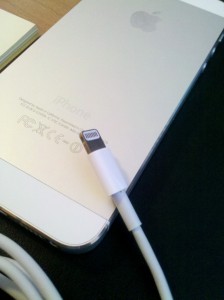 Since they announced new connector almost at the end of 2012 I expected new "lightning" connector to work on USB 3.0. But no, it works on older protocol – USB 2.0.
New connector and new size means that all your accessories and peripherals that you used with your i4 or i4s are now obsolete. Although, if you still want to use your old peripherals, you have an option, there is converter from 30pin to lightning connector which Apple will sell you for "only" 30$.
I5 is 4.0" and has a screen resolution of 640 x 1136 while i4s is 3.5" and has 640 x 960 pixels.
Storage remains the same – 16/32/64 GB options.
Battery life is same for me on i5 as it was on i4s. With my usage, battery lasts only 12-15 hours.
There is a new processor in i5 – A6 dual core 1.2GHz chip and 1GB RAM. I4s has A5 dual core processor on 1.0 GHz and 512MB RAM.
Rear camera in i5 is the same 8MP as in 4s, while front is upped to 1.2Mpix.  Some reported purple flare while taking photos in sunlight with i5.  So far I didn`t have such issues.
Also included in the package with i5 are new headphones – I have to say that I`m really pleasantly surprised, sound is much better and I haven`t had problems with headphones dropping out of my ears.

I5 comes in black and white color, and there is an issue with black one. Black bezel is prone to scratches. Two of my friends have black ones, and after a week of usage scratches are visible.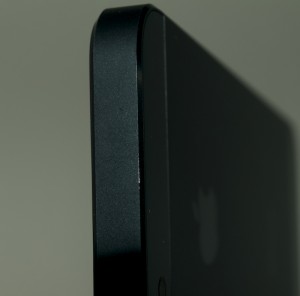 If you still want black one, check this solution for scratches -> http://www.youtube.com/watch?feature=player_embedded&v=Z31HP_2CNvQ#!
I got myself (for the first time) a white one, which is not that problematic.
To recap everything, there is lots of news in hardware section of i5. New display size, new processor, new design, new connector, new headphones.
Software: iOS 6
I5 is coming with iOS 6. At the time of writing this iOS 6.0.1 is actual build.
There is no special news in iOS 6 and true innovations are missing. Nothing changed much since iOS 5 (even iOS 4) so I`ll be brief.
Siri– Siri in enhanced and has new features. Since I live in Croatia I don`t have much benefit from this. Overall I haven`t used Siri much, except for fun. It doesn`t understand Croatian and even if I speak in English it can hardly pick up Croatian names (If I want to use names, locations in Croatia) and phrases correctly. Another problem is my accent, which I call Russian English. I usually have to repeat things two-three times.
Apple Maps – Apple throw out Google Maps in favor of their in house solution – Apple Maps. So far, I found Apple Maps lousy and unreliable solution.
I just took a quick look at the maps and I wasn`t happy with what I got. A road near my workplace is missing, also they put a museum in my street and one is nowhere near. Train stations are in the middle of the streets and nowhere near their real location.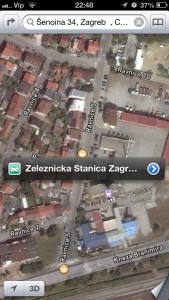 I`ll stay away from Apple Maps for now.
Passbook – another feature that is unusable in Croatia. If you are interested about details – read here -> http://www.apple.com/ios/whats-new/#passbook
Youtube – Youtube app is no longer preloaded on iOS 6 so you`ll have to download it from App store.
Facebook integration – Facebook is now integrated deeper into the iOS, but I don`t use it. I have Facebook app + Messenger installed, and that's fine for me since I`m not Facebook addict.
But, there are a few new and practical tweaks.  You can now decline a phone call with a message which is cool tweak .
Also there is a cool new feature that I wanted for years on iOS. Do not disturb. In the night hours I don`t want to be disturbed with sounds from new incoming email, SMS or calls, so this is cool and practical tweak.
Other honorable mentions are Panorama addition to Camera and option of FaceTime through cellular connection, not just Wi-Fi anymore.
And that's all for iOS 6 if you ask me, nothing groundbreaking, no killer features.
What is missing in iOS 6?
As always, my personal list of things that I`m missing on Apples iOS.
Better multitasking – Frozen apps are not multitasking.
Better notification center – Addition of toggle bar for frequently used functions would be nice (for example Wi-Fi, 3g switch, as on Android)
File explorer – It would really help me with my everyday tasks. ITunes and various ftp solutions that some apps have are really complicating simple tasks that could be managed through file explorer.
Customization – except wallpapers, you cannot change anything. After using iOS platform for five years now, I `m bored of it. Same static icons, no live tiles, no widgets, no desktop…
Feature rich mail client –Mail client is improving, but after 5 years, there are no big improvements. You can now add picture directly from mail, but where is bold/italics/underline option. Font types, sizes are also missing. Custom folders for sorting mail would be nice…
Safari tab limit – eight tabs limit. I need more than that. I`m used to browse with much more tabs open. And yes, I need them all.
Better App store support for Croatia – there is app store in Croatia but it is very poor when compared to USA – no music, no movies, lot of apps are missing.
Better Photo Album Management – being able to create albums but unable to delete photo from just one album is ridiculous. If you create new photo album and transfer photos from Camera Roll to new album, copy of photo will be in both Camera Roll and newly created album. If you wish to delete photo from just one place (remove it from Camera Roll for example), you`ll be prompted to delete it everywhere (in both albums), not just in one place.
Walled garden – Apple really should ease up on its app policies. For example, recently I wanted to install alternative email client. I haven`t found almost anything. Honorable mention is Sparrow. But with great flaw – it cannot push email, because Apple won`t allow that feature to developers. Email client without push support is, that is needless to say – useless. Also you cannot set it as your default mail client.
That's just an example.
I know that Apple won't introduce or change some of these things I counted here – it's just my wish (and flaw) list for iOS.
Jailbreaking, should you do it?
Let me repeat it again – It can void your warranty, but it`s completely legal. Jailbreaking is the way to escape Apple`s walled garden and it offers expanded features to iOS platform. Jailbreaking removes restrictions that Apple put in iOS and gives user root access to the iOS.
It is completely legal, but unfortunately many people see jailbreaking only as a pirating platform.
If you're not in pirating boat, you`ll still find jailbreaking and Cydia as a great addition to your iOS device.
Of course you have to be careful what you install as there are many buggy apps that may slow or sometimes crash your iPhone.
Almost all the features that ˙I'm missing in iOS can be resolved with jailbreaking, so if you want to expand your iPhone usability, jailbreak is something you have to try.
I`ll mention just few apps and tweaks, you can check them on Cydia, or Google their purpose – iFile, Barrel, Winterboard, ProTube, Tab+, Omnitask, PhotoAlbums+, MailEnhancerPro, SBSettings, Quasar…
There is one problem with jailbreaking. Apple is actively working on disabling it. Currently you are unable to jailbreak i5 on iOS 6. Months can pass before exploit is uncovered and jailbreak possible. There is tethered solution for jailbreaking i4s, but tethered solution is not the best one. Tethered means that once your phone shuts down, you won`t be able to boot it without computer. And that is pretty impractical if you are nowhere near computer.
i4s for i5?
In my opinion, you can skip i5 if you have i4s. I4s is still a great phone. I5 has bigger screen, but to be honest, I haven`t noticed it in everyday work. Most of the time I`m using my phone in portrait mode, and it would be nice if phone was a bit wider, not longer.
I4s still feels as fast as i5, and it is because of the great optimization of iOS. I haven`t run any benchmarks, but from everyday usage I haven`t figured difference in speed. Although i5 is slightly faster phone when you look at specs.
Camera is the same, so no reasons to upgrade there. Battery life with i5 doesn`t get any better…
Only reason you should update is if you want the latest and greatest iPhone in your pocket.
If you have i4 or older models, than this is worthy upgrade for you.
Conclusion
I5 is a nice update – new design, longer display with a bit better processor and more RAM. All in all, new i5 is nice hardware package.  On the down side – you may reconsider buying black model since it is prone to scratches.
iOS in its 6th edition isn`t the greatest one. There are still problems with Siri and Apple Maps are in my case very unreliable. Overall impression (at least for me) is that true improvements are missing from iOS now for some time. Android and Windows Phone 8 are bringing new features (Windows Phone 8 is especially refreshing in mobile space) while improvements in iOS are too small.
iOS definitely needs redesign and something new and bold.
Still, iOS remains fluid and very stable platform with great choice of consumer apps.
If you are satisfied with iOS and have i4 or older iPhone – this upgrade is for you. If you`re still waiting for big improvements and new "killer" features from iOS – it is time for switch.